Review
Violinist Sydney Wells has been blind since she was about five following an accident with some firecrackers. Despite that, she is on the brink of her greatest triumph as soloist. She is also about to get cornea transplants and be able to see again.
Once the eyes are in, however, Sydney finds that she is seeing things that don't make sense. Her doctor, Paul Faulkner, says that this is normal because she has been blind so long her brain no longer knows how to process the visual information, but these images are terrifying and these images are real.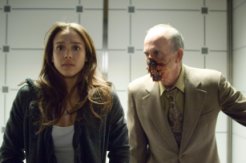 Convinced that she is seeing dead people and the reapers that have come to claim them, Sydney determines to find the identity of the donor of her eyes, believing that in the story of that woman is her only hope for peace.
The only two sources of horror worth considering at the moment are Spain and the Far East. Asian horror has taken the world by storm ever since RINGU scared the living daylights out of everyone and every year sees two or three new ones arrive. Americans, though, are not great fans of reading subtitles and so the immediate fate of these superior chillers is to be remade for the english speaking market using bigger stars and more conventional shock tactics. These remakes are invariably inferior to the source material.
THE EYE is the story of one woman's descent into near madness and as such it is almost a one-woman show. Jessica Alba makes a bid for acting credibility by glamming- down and spending much of her time in hospital gowns and baggy coats. It's an obvious attempt to move away from the eye-candy roles of FANTASTIC FOUR and SIN CITY and she does a pretty good job of it as well, convincingly confused and terrified in turns. The fact that she is in every single scene means that the film lives and dies with her and she shows that she can shoulder that responsibility. Though she might not convince as a concert violinist, she is credibly blind and her slow falling apart is well-acted. She won't be winning any oscars for this, but it is a solid first step towards acting credibility.
This is a horror film, of course, so what of the scares? The film starts off with some slow burn images of blurry reapers taking the dead off to the afterlife, kids asking for report cards in the corridor, men with no face in the lifts, but increasingly makes use of the sudden movement into view kind of jump that is more startling than scary. In the last third, the horror is abandoned altogether in preference of a thriller denoument. All of this works well enough and entertains, but it certainly doesn't rise above the average and considering the possibilities presented by the film being all about eyes, the body's most vulnerable organs, it is surprising that this is not exploited more.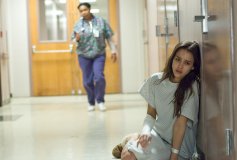 Parker Posey and Alessandro Nivola's parts amount to little more than extended cameos and both are better than their roles deserve.
On the whole, THE EYE will make you jump, intrigue you with the plot (especially her reaction to a photo taken of her and a fan) and occasionally chill, but it is never truly scary.
Top
---
Trailer
Top