Review
Bella is preparing for the date that she will be turned into a vampire. It is a moment that her vampire lover Edward would like to avoid, but the Italian ruling council of vampires has spoken and if Bella is not changed then she must be killed. Jacob, one of the werewolf clan that hates vampires almost as much as the vampires hate them is also against Bella's becoming a vampire. He wants to offer her a more human existence. Neither of these two besotted men need necessarily worry about Bella becoming a vampire because an army of newborn vampires is being raised in Seattle with the sole aim of killing her.
Film three of the TWILIGHT series gives more of what came before, only this time it's sort of doubled since Bella has two men after her. Jacob's love is hot and animal and won't be ignored, whilst Edward's cool and just as determined. Caught between them, Bella twists on the horns of a dilemma that is the stuff of teenage girl fantasy and it is those teenage girls that are the obvious target of the book, and therefore film, series. How else could you explain away the buff werewolves in human form who wander around without anything more than a pair of cutoff jeans to suggest clothing?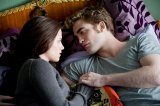 Unfortunately, Kristen Stewart is not strong enough, or rather Bella herself is not a strong enough character, to pull off the tormented girl torn by two lovers. There is only one way that this love triangle is going to end and that rather reduces the tension that ought to be inherent in the love story.
Also distracting are the constant flashbacks that we are unnecessarily subjected to. Not only are we given selected scenes from the past of the wolf pack (they have a bearing on a later scene, but not with enough strength to make them vital) and Jasper's reminiscences of working for an evil vampire also raising an army of newbloods is never made relevant at all. As for the vampire explaining how she was gang-raped before being turned, well it's hardly even relevant to the scene in which it is related. These may, of course, all become blindingly important in later films, but they pad out the running time here with little effect on the main story other than to diminish it.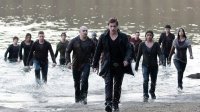 And so to Victoria and the army of newborn vampires. Anyone who hasn't been following the books/films isn't going to have a clue as to who Victoria actually is, thus making an explanation necessary and again diluting the success of the film in its own right. Bryce Dallas Howard makes for an entertainingly evil villainess, but isn't given anything like the screen time she deserves. When she's on screen she's ace and there is a hole when she isn't.
The smackdown between the newborns and the vampire/werewolf coalition is really well realised and is probably the only part that the male partners who have been dragged along will perk up for. The CGI werewolves have improved immensely, but still aren't quite right. That Holy Grail still hasn't been achieved. The action is fast and frantic and probably could have done to have been a little bit clearer, but then that's the post-Bourne era for you. If it isn't shaky-cam action then it isn't action at all. The duel between Edward and Victoria is better handled and more satisfying as a result.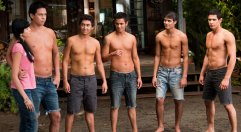 ECLIPSE suffers from franchise mid film malaise in that it can't suit as a film on its own, will alienate new audiences who haven't seen the earlier films and has neither a real beginning nor an end. It also doesn't help that the narration that Stewart provides to get over some of these issues sounds more bored than anything else.
The target audience will love it, newcomers might just be confused, but at least there's a big action finale to keep fidgety boyfriends happy.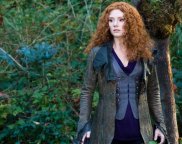 Top
---
Trailer
Top