Review
Bella loves Edward despite the fact that he is a vampire and has to actively resist feeding off her every minute that they're together. Following an unfortunate incident at her birthday party, Edward decides that it is safer for her if they never see each other again. Bella, unfortunately, can't give up Edward and goes to greater lengths of danger in order to summon up his face. This is helped when she discovers that her new best friend and would-be boyfriend Jacob is, in fact, a werewolf dedicated to killing bad vampires. A misunderstanding then sends Edward into the hands of an italian clan of vampires who are the only ones empowered to kill other vampires. Bella sets off to his rescue.
The TWILIGHT has been a huge hit with girls of all ages across the world and nothing that can be said about this movie is going to change the fact that it is going to be a huge hit and the third in the series will be along any time soon. Fortunately, it is possible to report that, whilst flawed, the film isn't that bad.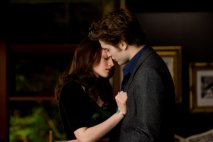 It could have been, though, considering that the majority of the book is about a girl pining for her missing boyfriend. How cinematic is that? True, she has a friend who she grows close to and learns is a werewolf and there is a brief sojourn to Italy to meet killer vampires, but it's still mainly a moping teenage girl. Melissa Rosenberg's script manages to boil down that to a workable story that stays true to the book, but doesn't overstay its welcome. This is still about Bella's sense of loss and the crazy things that it makes her do first and foremost before going onto the werewolf and Italian vampire sections which do feel as though they were add ons in the book let alone the movie.
Whilst the core of the story is intact, the movie doesn't flow easily. There is a seriously episodic feel about it. The narrative suddenly drops in things like a vengeful killer vampire (Jessica from the original film) whilst the whole Italian visit is rushed into. The time from Edward thinking Bella is dead to him being in Italy and about to commit suicide is only a single shot of an airline advert apart.
The whole Italian adventure doesn't really work in the way that the rest of Bella's mourning does. The narrative is condensed and rushed. Characters are just there without any sort of introduction and Michael Sheen (well versed in vampires from his time in the UNDERWORLD movies) gives a surprisingly bizarre and unbelievable performance as the head of the Italian clan.
The action, when it comes in brief spurts, is fast, brutal and well-handled, but the film falls foul of the continuing inability of cinema to come up with a convincing CGI werewolf.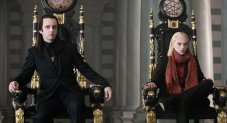 NEW MOON has a good many problems, but is enjoyable enough in parts nonetheless and, as we noted earlier, none of that is going to matter in the least little bit to the targe audience.
Top
---
Trailer
Top