Review
Logan has a terrible curse. He is a mutant who heals at an incredible rate, making him almost impossible to kill. He also grows bone claws out of his fists when angry. These talents bring him to the attention of William Stryker, a general with big plans for the mutant community, but after a while, Logan finds his views don't quite match up with the general's something that puts him at odds with Victor, his half-brother and a man who shares a lot of the same traits. Logan leaves the team, but years later when the team start dying, Logan is drawn back into the fight, and becomes an unstoppable force of nature and technology combined.
Wolverine is one of Marvel comics' most popular characters and one that has made the transfer to the screen via the X-MEN movies thanks to his incarnation in the shape of Hugh Jackman. Jackman's charisma, combined with his machismo and his dangerous edge is a perfect fit for the character and so when theX-MEN trilogy faltered it was inevitable that his was the character through which the franchise would try to continue.
The chosen route of the franchise was through a prequel (any sequel having to be an X-MEN movie) and there is a weakness with prequels in that the audience has a built in knowledge of what is going to happen before time. Since Wolverine appears in the (chronological) later films we know he isn't going to die, or even get seriously hurt and the same goes for his major nemeses Victor (who becomes Sabretooth) and Stryker. That being the case there isn't any tension because there isn't any threat.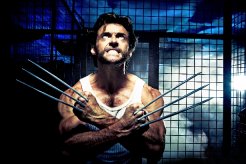 Where prequels can score is in tying up the backstory and letting fans of the story find out how their character came to be the way he is. This is mainly a fan thing and X-MEN ORIGINS:WOLVERINE is going to appeal mainly to the fans. Apart from Logan, Victor and Stryker, the other characters are barely sketched in with their powers being present but barely explained. There is pleasure for fans in seeing The Blob, Wraith and Gambit, but for the uninitiated they are merely cyphers. Gambit's powers especially are poorly explained, merely there.
The action, of course, is top notch with unkillable people blowing up a lot of stuff, but however well choreographed it is it still proves to be empty as there is no threat to the combatants. The final conflict atop the cooling towers of Three Mile Island (nice touch that) is between three nearly invincible characters and therefore is a bit like watching the later stages of a video game.
Hugh Jackman is always watchable and is very comfortable with the Logan/Wolverine character whilst Liev Schrieber matches him as the villainous Victor. Danny Huston is also good value as Stryker. They are worth the price of entry, but nobody else comes close.
Fans will love the in-jokes and nods to the knowledgeable, but newcomers are going to find it all a bit self-indulgent.
Top
---