Review
Three men and one of their nephews take a trip to their old ski resort stomping ground to try and recapture the old glory days before they drifted apart and one of them almost committed suicide in his car. There, they get transported through time by their hot tub and find themselves in their old bodies in the 80s with a stern warning not to change a single thing.
Before we start we have to say that we were sold on seeing this movie simply by the title. HOT TUB TIME MACHINE is one of the great titles of all time along with the likes of SNAKES ON A PLANE, LESBIAN VAMPIRE KILLERS and ZOMBIE STRIPPERS. Admittedly, none of those films exactly rocked our world, but how could a film called HOT TUB TIME MACHINE go wrong?
'Spectacularly' is the answer. The title conjures up a wild ride through the decade that taste forgot with loads of great fun pop references and fish out of water moments. What we get is a trio of old blokes swearing a lot and shouting in the hope that nobody will notice that this is not an acceptable alternative to actual jokes.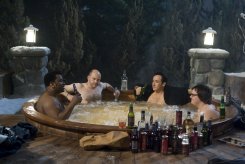 It is a mystery to us how John Cusack found himself in this mess and from the perpetually confused look on his face he spends most of his time wondering the same thing. The actors are fine, but they are given nothing to work with. It really took three script writers to come up with this? Shame there wasn't one of them who knew what was funny.
There is so much potential in the fashions and mores of the time (see THE WEDDING SINGER if you don't believe us), but none of that is exploited here (one Michael Jackson joke aside). The trailer below is actually much better than the whole film. If it was possible the trailer makers should be hauled into court on charges of false advertising.
Watching this film on a Friday night with some mates after a bunch of beers might just make it tolerable, but we pretty much doubt it and we like our mates too much to inflict this upon them.
Top
---
Trailer
Top